Settings for international shipping vary on each channel. Below are suggestions for which settings to update in Shopify and Amazon before enabling international shipping in Flexport. We recommend taking a look into your settings in all channels to make any changes needed before fulfilling Flexport international orders.
Flexport does not restrict international shipping by channel, but merchants will need to validate that settings are updated for Flexport DDU international shipping. Again, it is recommended that you give your customers advance notice regarding the customs fees they will need to pay before their order is delivered.
Note: Walmart currently does not ship Walmart U.S. orders outside of the 50 United States, American territories, and APO/FPO/DPO military addresses.
Shopify
1. Navigate to Settings and select Shipping and Delivery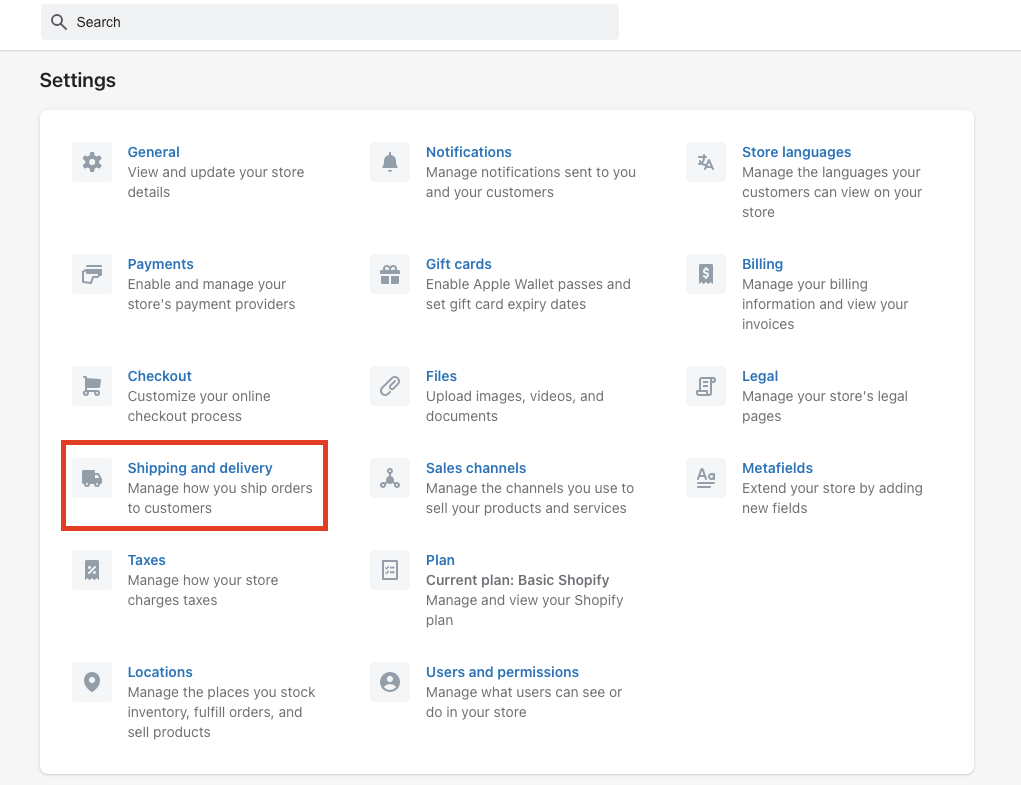 2. Select Manage Rates

*Note: If you are fulfilling some regions through Flexport and other regions through a different fulfillment method, you will need to ensure you have Multiple Locations enabled in Shopify and add separate rates for each location. See the Multiple Locations help center article.
3. Most accounts should have a Domestic group by default. Select Create shipping zone, label the zone i.e. 'Flexport International', and select a region. Click Done.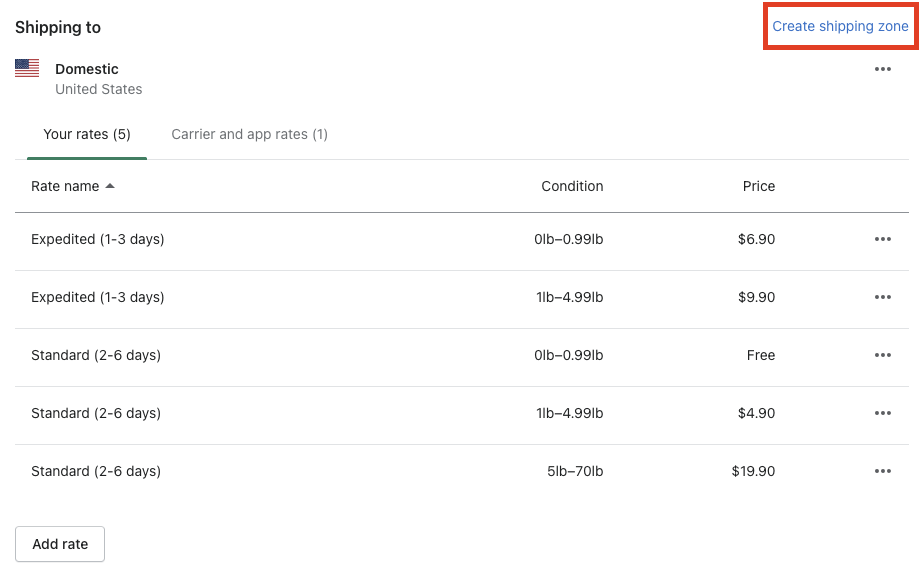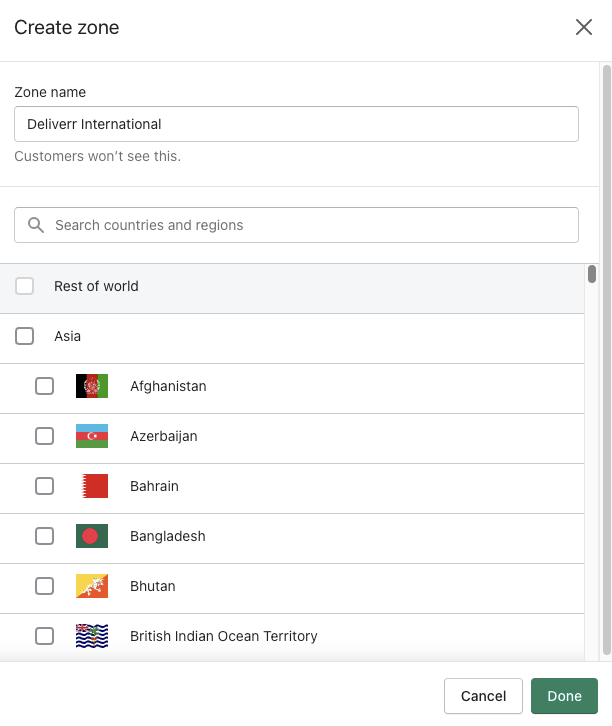 4. Add your shipping rates and conditions. As a reminder, international shipping is currently Delivery Duty Unpaid, so customers will need to pay the customs and taxes when the shipment arrives at customs in the destination country.
5. Although international shipping transit times are longer than standard domestic shipping speeds, the shipping option mapping for Shopify can remain as Standard (5-7 day)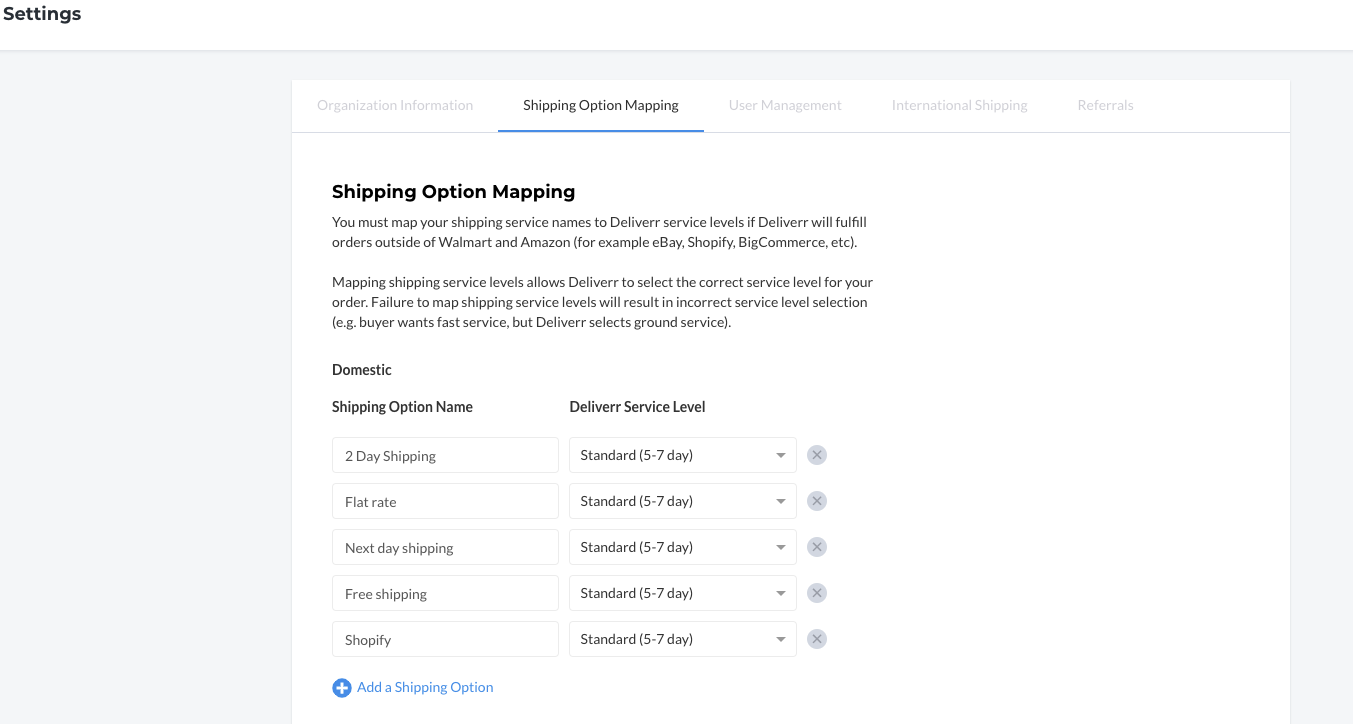 Amazon
1. Log in to Amazon Seller Central
2. Go to Settings > Shipping Settings
3. Create a new shipping template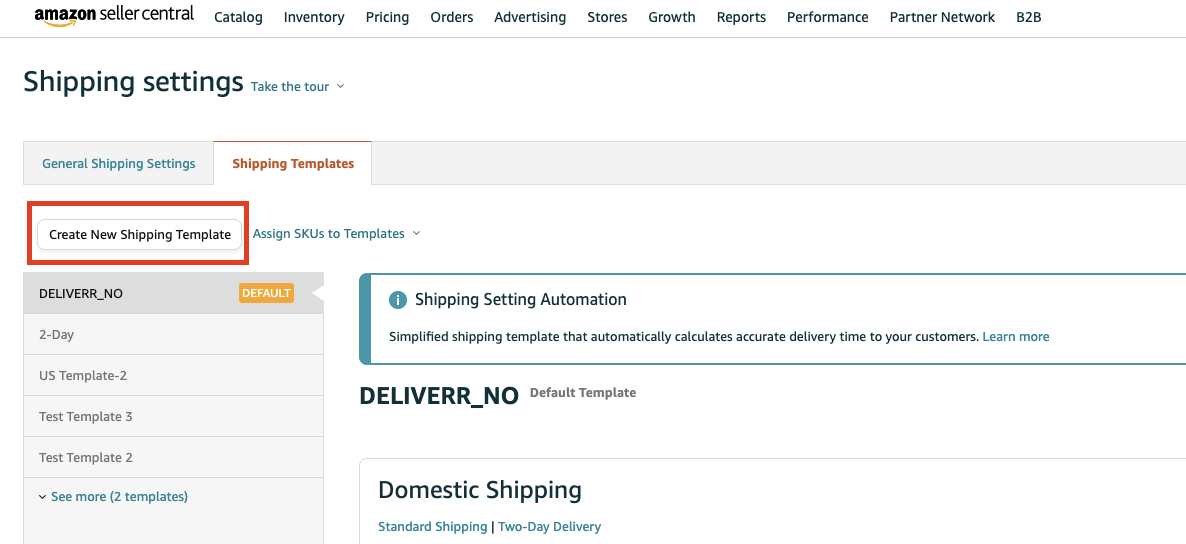 4. Select international standard shipping and add new shipping rule

5. Select the region(s) you wish to ship to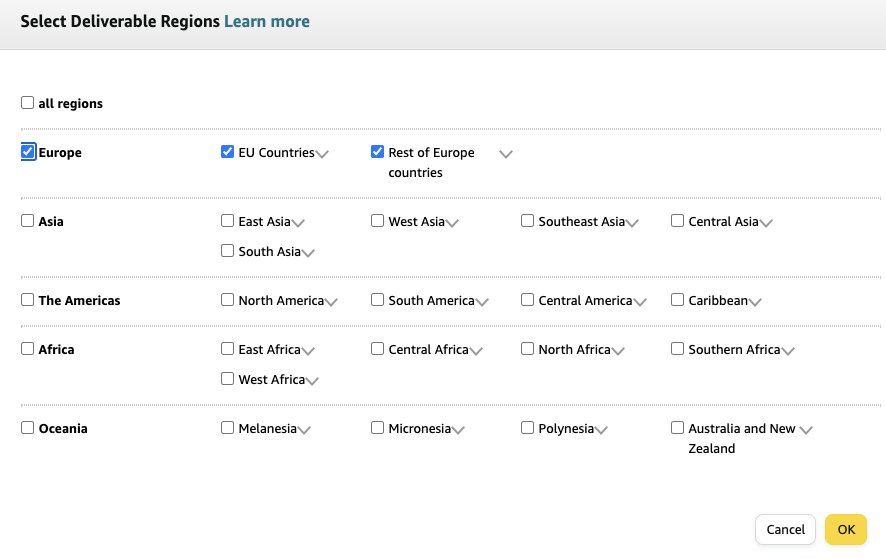 6. We recommend selecting Amazon's 10-20 day transit time setting. As a reminder, here are Flexport's estimated transit times:
Canada and Europe: 4-15 business days
Rest of world: 8-15 business days
Adjust the shipping fees according to Flexport's prices and what makes the most sense for your business

7. Click save
NOTE: Amazon may require sellers to provide a returns address in the country of sale. Although it is not required to provide a local return address, sellers are expected to cover the cost of international returns if you do not. Learn more in Global Selling Fulfillment Options & Customer Support and Returns.
eBay
1. eBay's Global Shipping Program:
This program allows Flexport to send your sold items to eBay's U.S. Shipping Center in Kentucky. Once eBay receives the package at the Shipping Center, eBay handles the international leg of the trip including customs forms, import charges, and international shipping.
Therefore, the shipments from Flexport are treated as domestic orders, and eBay handles the international shipping. This means Flexport will charge the domestic rates to ship your products to eBay's U.S. Shipping Center. eBay will handle the rest.
More information here:
2. Standard eBay International Shipping:
Edit the "Use shipping rate tables"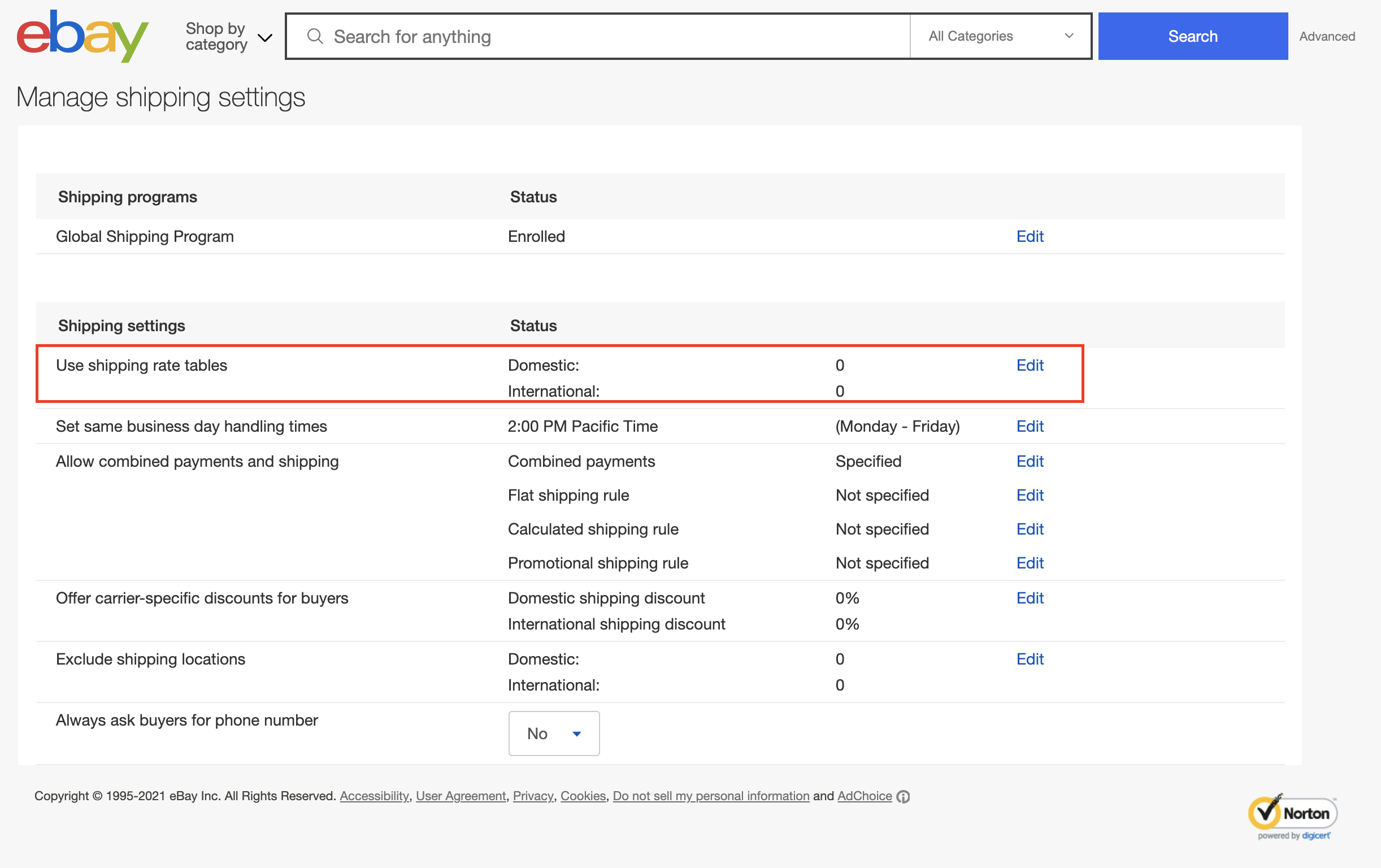 Create new International rate table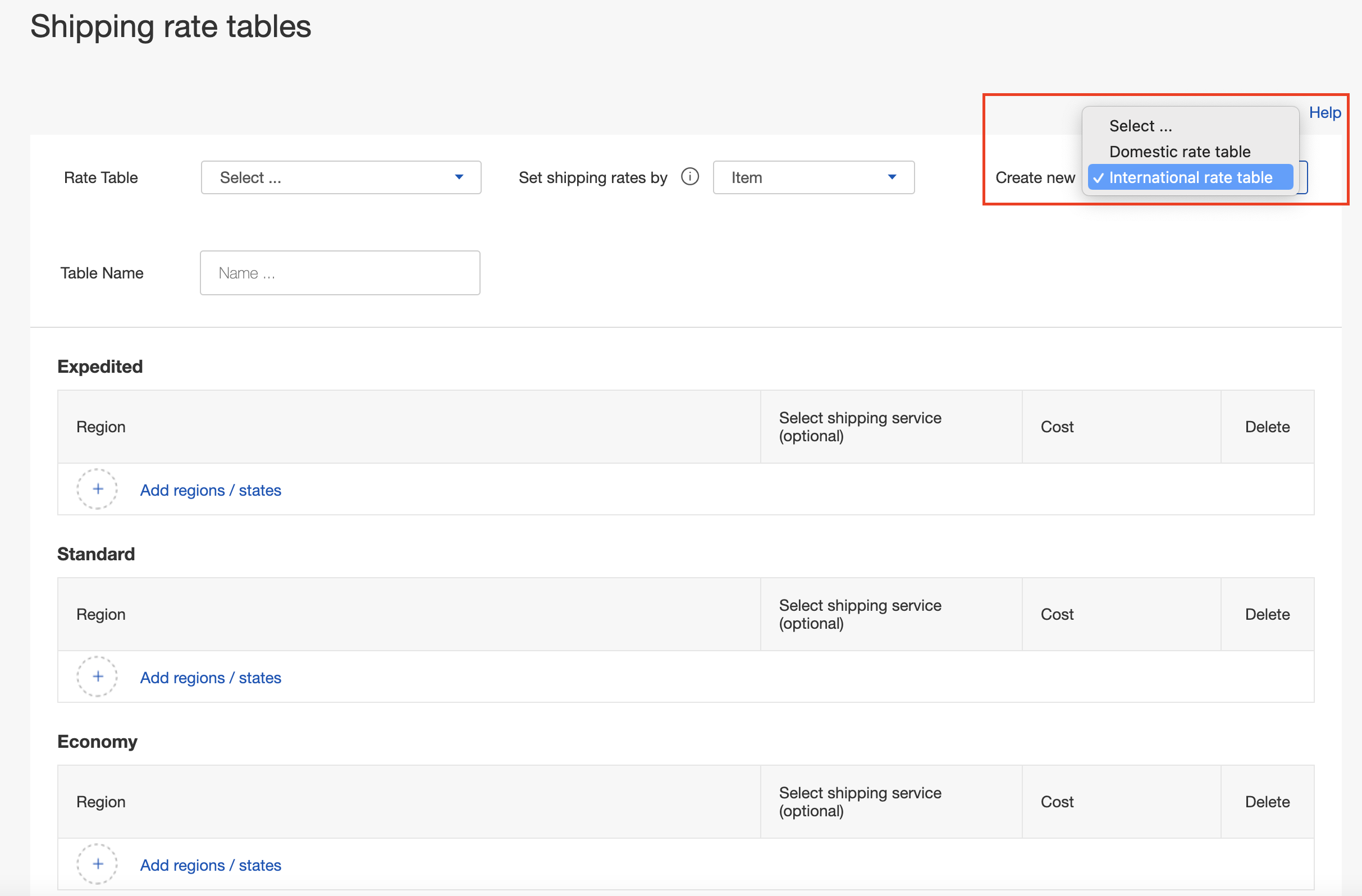 Add the Regions you would like to ship to in the Standard section. You can select USPS First Class Mail International Parcel. Set your cost. As a reminder you can view all Flexport rates by country in the Flexport Portal Inventory and Inventory Detail pages.