Note:
USPS and FedEx have suspended service to/from Ukraine, Russia, and Belarus. The eBay Global Shipping Program has also suspended shipments to/from Ukraine and Russia.
Additionally, due to COVID-19 and other supply chain issues, USPS has suspended service to some

countries

temporarily, including Australia and New Zealand. Flexport also ships international orders through DHL, so we will aim to use DHL for orders going to these countries. We are actively exploring ways to override this carrier limitation in order to fulfill these orders.
Overview
Flexport supports international orders with Delivered Duty Paid (DDP) and Delivered Duty Unpaid (DDU). To learn more about these types of orders, please visit Things to consider before shipping internationally.
If you are integrated with Shopify Markets Pro or Global-E, any Shopify orders with international addresses will be processed as Delivered Duty Paid (DDP). Otherwise, international orders will be processed as Delivered Duty Unpaid (DDU).
How to enable international shipping
1. Navigate to the Settings tab and click enable international shipping. When you select an integration option (ex: Shopify Markets Pro or Global-E), Delivered Duty Paid (DDP) will be enabled for your store.
The option "I do not have an integration" will enable Delivered Duty Unpaid (DDU) orders for your store.
Please note that you will only see DDP integration options (Shopify Markets Pro and Global-E) if you have a direct Shopify channel set up in your account. Otherwise, you will only see the option to enable international shipping for DDU orders.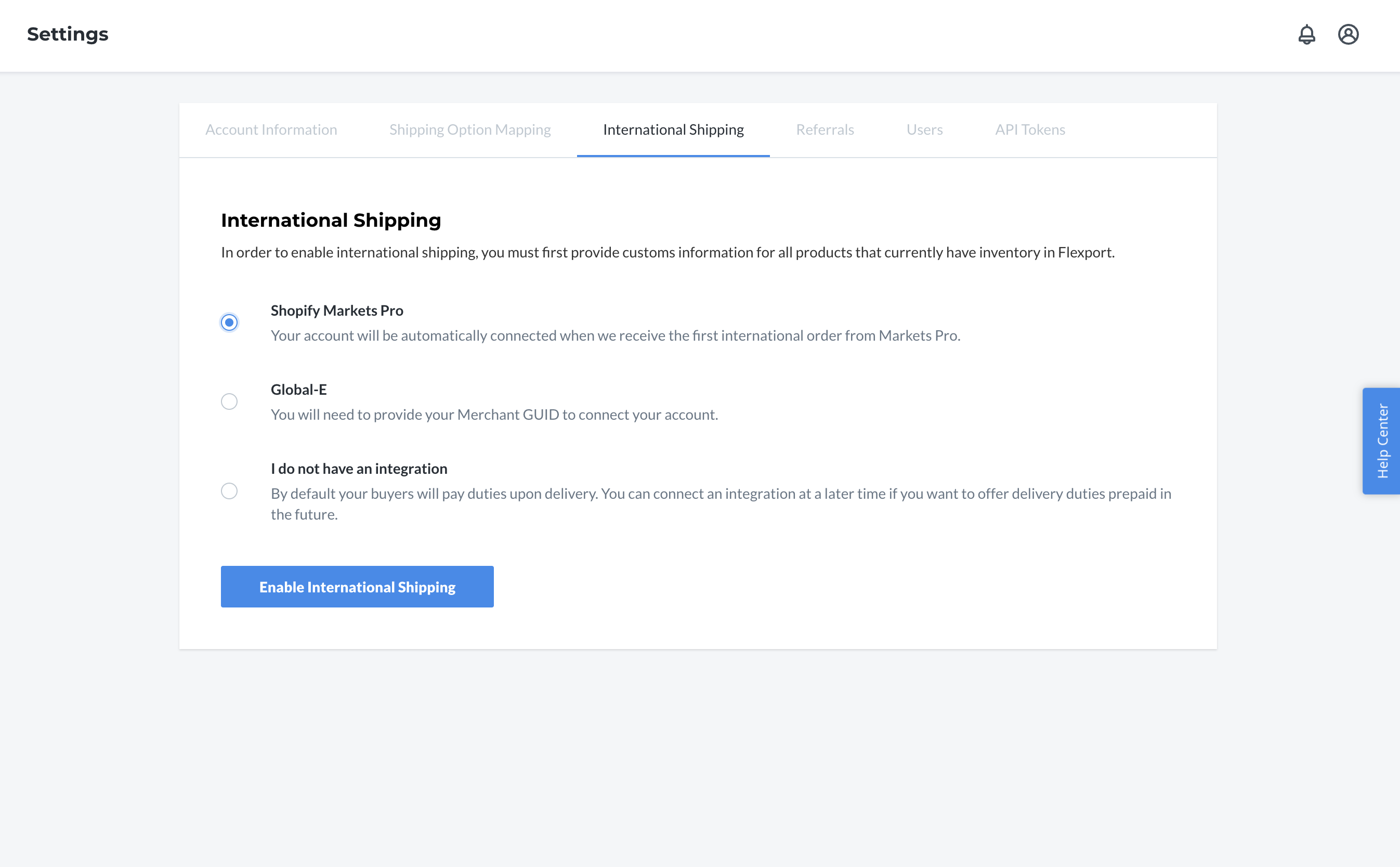 2. For DDU orders, you must also enter customs information. If you have non-Shopify channels set up in your account (ex: Amazon, Walmart), you should also add customs information so that international orders for these channels can be processed as DDU. You are not required to provide customs information if you only want to process DDP orders for your Shopify channel.
You can provide customs information either in Settings right after enabling International or on the Inventory Detail page.
Country of origin: the country of manufacture, production, or growth of the product
Tariff code: a product-specific code as documented in the Harmonized System (HS) maintained by the World Customs Organization (WCO). Tariff codes exist for almost every product involved in global commerce. Required on official shipping documents for tax assessment purposes, a tariff code ensures uniformity of product classification worldwide.

U.S. International Trade Commission

tariff code lookup tool




Customs value: the price a customer pays when they buy the product
Settings:
Inventory Detail:
3. On the Inventory page, select Worldwide Standard Delivered Duty Unpaid and a destination country to view international fulfillment costs at the product level. For Worldwide Partner Delivered Duty Paid and Worldwide Partner Delivered Duty Paid, the fee is a flat rate of $3.50/unit. These prices are also provided on the Inventory Detail page.
Frequently Asked Questions
Does Flexport offer Delivery Duty Unpaid or Delivery Duty Paid?

We offer both DDU and DDP service levels. If you want to use DDP, you must be integrated with Shopify Markets Pro or Global-E.
For DDU orders, the customer will have to settle any import duties and tariffs in order for customs to release the shipment and have it delivered to the customer. Customs or the carrier will contact the customer once the shipment arrives in the destination country.
It is important to make your customers aware ahead of time that they will need to pay these fees. Otherwise, you risk customer frustration when they realize there is an additional cost before receiving their item.


When selling on different platforms, how should my business go about entering the correct customs price? For example, a merchant offers a product on Amazon for $29.99 and also sells it for $39.99 on Etsy - which value should we use?

Look to input the highest price. Customs value is used to determine duties and taxes. If customs think the price declared is lower than it should be, there's a risk of the package being held.
How long does it take for international orders to be delivered?

The delivery time will vary by country and region.
For DDP, the transit time estimate is 3-7 business days
For DDU, these are the current transit time estimates:

Canada and Europe: 4-15 business days

Rest of world: 8-15 business days

We will continue to work on adding more service levels to our international shipping capability, so this SLA may change in the future.


How much does it cost to ship internationally through Flexport?
For DDP, fulfillment charges are a flat rate of $3.50/unit regardless of destination. Please reference Shopify Markets Pro or Global-E for additional information. You can also read more under the section "Pricing for International Orders".

For DDU, international pricing will vary by country and product. Navigate to the Inventory page in Seller Portal and select Worldwide Shipping and the country of your choice to view the international prices for your products. You can also contact your Flexport rep or Contact Support to request a quote.
Pricing by destination country and product can also be found using Flexport's cost calculator
Are there product price limits on what I can ship internationally?

At this time, products shipping to Europe must be less than 150 euro. Otherwise, anything

over $300 is not permitted to ship with Flexport

.


Are there product dimension and weight limits for international orders?
Yes, products cannot ship internationally if they are any of the following:
1. Greater than 20lbs or any dimensions are larger than 15" (shortest side) x 24" (median side) x 40" (longest side)
2. Billable weight (Length x Width x Height / 139 + 1lb ) is greater than 20lbs. Length is the longest side, width is the median side, and height is the shortest side. This calculation will be done by Flexport, and you will see messaging on the Inventory Detail page if the product's billable weight exceeds 20lbs.


Are there restrictions on which products I can ship internationally?

Hazmat items cannot be shipped internationally. This includes lithium and lithium ion batteries, flammable items, gases, explosives, corrosives, and other product types.

Twos exceptions:
- Flexport can ship

lithium battery products

to Canada.
- Flexport can ship hazmat items to military addresses.


Does Flexport ship to military addresses?

For DDU orders, yes, Flexport ships to APO/FPO/DPO addresses. We use domestic non-contiguous U.S. rates for shipping to military addresses, but these are international shipments that will generally take 4-15 days to be delivered. (Non-contiguous is the AK/HI/US Territories (Non Fast Tag) service level).


Can I create Manual international orders?
Yes, you can create international orders manually in the seller portal.
Can I ship to P.O. boxes internationally?
No, at this time we do not permit international orders to P.O. boxes.
What is the claims policy for international orders?
As outlined in our

Claims Help Center article

, orders without tracking movement for at least 21 days are eligible for lost in transit claims. Please

submit a Support ticket

in order to file a claim for an international order that meets this criteria should you not be able to do so in the Seller Portal Order page.
Is shipping to U.S. territories considered international shipping?
No. Please note that DDP is not supported for U.S. territories.
For DDU, shipping to U.S. territories uses domestic rates. However, customs information is required for the following territories: American Samoa (AS), Guam (GU), and Northern Mariana Islands (MP)
Enable international shipping in channels
Before enabling international shipping in Flexport Seller Portal, we recommend looking into your channel settings to ensure everything is set up for successful international order fulfillment (including prices and enabled locations).
Flexport does not restrict international shipping by channel, but merchants will need to validate that settings are updated for Flexport DDP and DDU international shipping. Again, it is recommended that you give your customers advance notice regarding the customs fees they will need to pay before their order is delivered.
Note: Walmart currently does not ship Walmart U.S. orders outside of the 50 United States, American territories, and APO/FPO/DPO military addresses.