Sign up for Walmart Fast Tags and Deliverr will add Free TwoDay Delivery and Free ThreeDay Delivery to your Walmart listings, for a huge sales boost at no extra cost to you.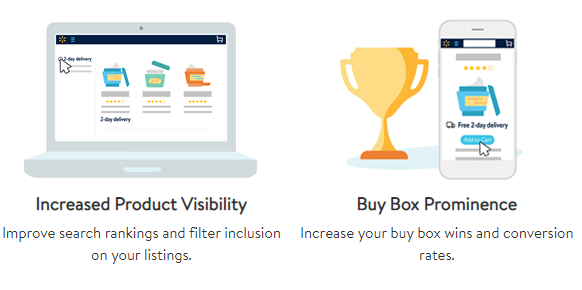 According to Walmart Free TwoDay and ThreeDay Delivery boost conversion by 50% and 30% over standard delivery respectively. Free TwoDay and ThreeDay also factor into the Walmart search rankings, filter inclusion and listing quality, ultimately helping you earn the coveted Pro Seller badge. Thus, more eyeballs and better conversion rates - best of both worlds!
Deliverr is Walmart's official partner to handle fast shipping logistics and we charge a guaranteed price for fast delivery based on your item dimensions. Deliverr automatically manages Free TwoDay and ThreeDay regions to offer the maximum coverage at no extra cost over standard shipping. Sellers who choose to manage their own TwoDay and ThreeDay regions will pay Deliverr's full 2-Day and 3-Day fulfillment rates, so we strongly recommend that you use Deliverr's Walmart Fast Tag program.
The badges will look like this on your listings: