We've updated the Flexport Portal to give sellers more visibility into order statuses! Shipping dates and delivery dates (both expected and actual) to view throughout the order fulfillment process. These dates will automatically be updated to give sellers the most up-to-date information.
During these unprecedented times, unexpected delays may sometimes occur due to circumstances outside of our control. In these cases, we'll be the first to let sellers know through the Flexport Portal.

Follow the order journey from order creation to delivery with the Order History tab right underneath the order status bar. Toggle the Order History drop-down button to get more specific information on your order status.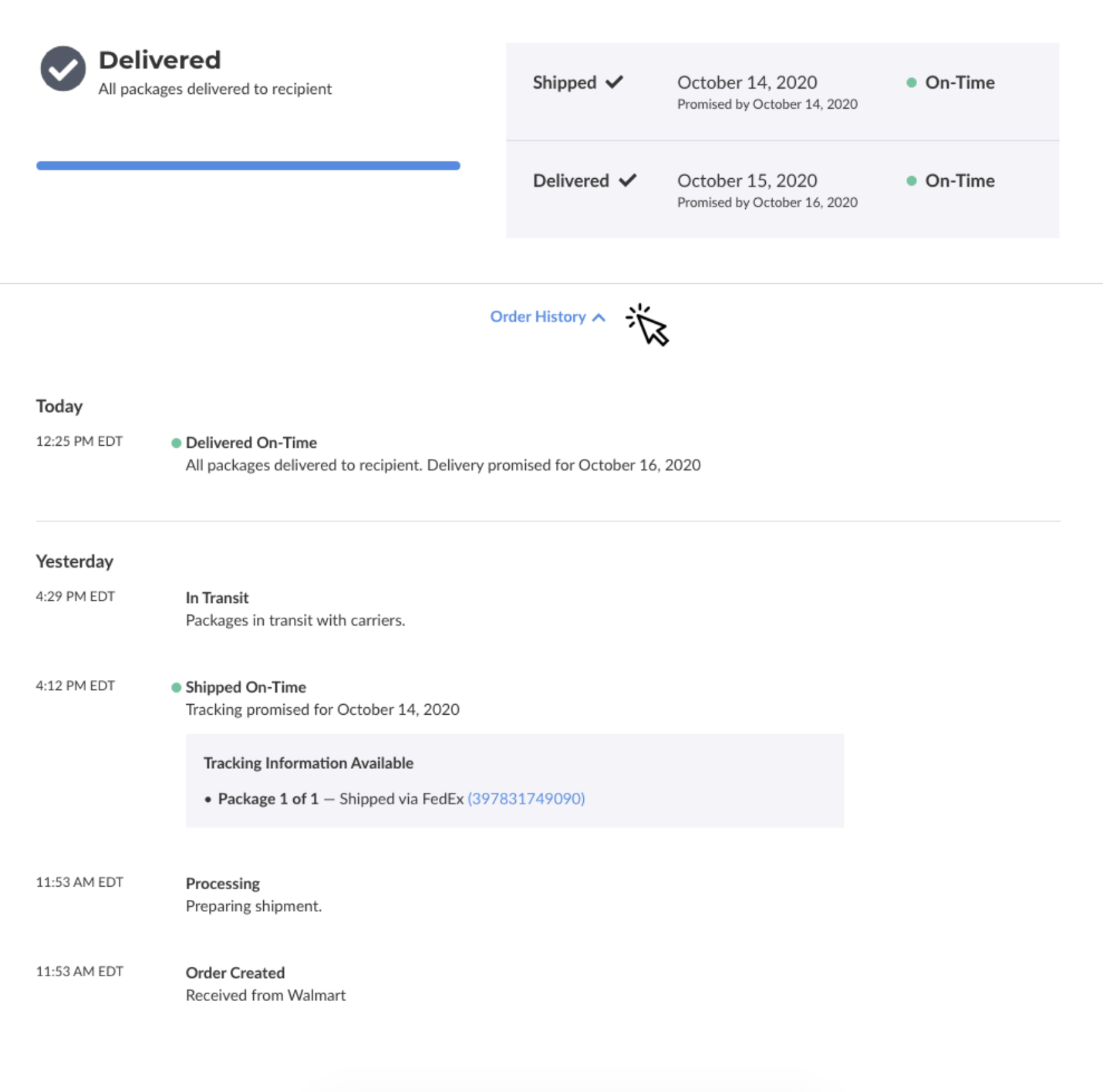 What Does Each Order Status Mean?
| | |
| --- | --- |
| Order Status | Details |
| Processing Delay | Order is experiencing delay due to technical difficulties. We will often reprocess these orders within Flexport's network. |
| Late Ingestion | Order was sent to Flexport via marketplace or listing tool later than expected. In these cases, the promised by dates are recalculated. If these error occur often, your channels' configurations may be misconfigured. |
| Invalid Address | Address submitted by customer requires verification. |
| Stockout | No inventory available to fulfill the order. Please check and replenish items before creating another order. |
| SKUs Never Inbounded | Order contains SKUs that were never inbounded. Please inbound SKUs before creating another order. |
| Invalid Product Dimensions | Order contain invalid product dimensions and weight. Please reconcile SKU parameters before creating another order. |
| International Address | Order cannot be shipped internationally today. |
Please note that Flexport will automatically upgrade shipping speeds (at no cost) to meet the Promised By Dates listed in the order page. Promised By Dates will only be recalculated after an invalid address verification or a late ingestion from your channels.