Before going over these instructions, you would first want to go over the article on How to set up Seller cloud before connecting to here.
1. Log into your SellerCloud account and verify eligibility:
Your DBVS version in SellerCloud must be 7345 or higher. If your version number is lower, contact SellerCloud support directly to request an update. You must verify that your account is eligible before trying to connect to SellerCloud.
2. Add a New Warehouse inside SellerCloud.
Go to Settings > Warehouses and click Add New Warehouse:

3. Add Flexport as a warehouse:
Enter next to Warehouse Name the word Flexport (make sure it's an EXACT match). Make sure the "Inventory managed strictly per bin" checkbox is not checked, and click the Save button:

4. Record your SellerCloud Server Name.
Look at the URL in your web browser and record your SellerCloud Server Name. This is the part of the URL in the very beginning, which includes the "sv". In this example below, that's "sv.cwa.sellercloud.com".

5. Select or create a new "employee account" (user account) inside of SellerCloud.
Fill out the necessary fields.
Please take note of this information that you have just entered into this account. This needs to later match exactly with what you input into Flexport.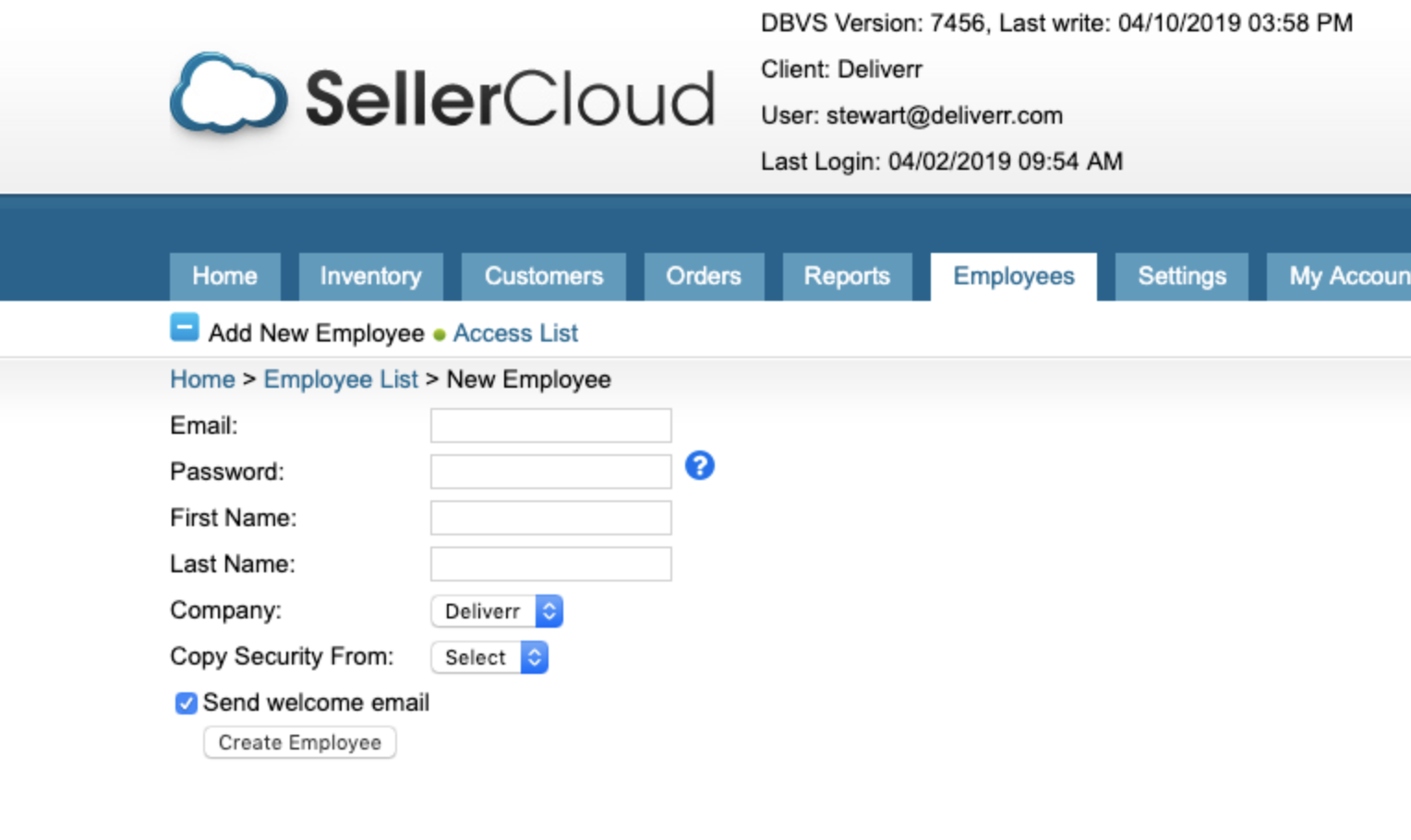 6. Make sure this account you have created is ACTIVATED.
Once you've created this record, there should be a check box that reads "Account Activated". If the box is not checked, you have not activated your account. To double check to see if your account is valid, re-login with the credentials you've just created in SC.
7. Return back to the Flexport setup page.
Enter your SellerCloud Login Email, SellerCloud Login Password, and SellerCloud Server Name that you collected in step 4 and 5.

The server name is the same whether you are using the .cwa.sellercoud.com domain or the .delta.sellercloud.com domain.
8. Select "Connect SellerCloud". You're all set!