This article covers what product categories are, why they are important, and provides more information about each specific category. See Product Packaging Requirements for specific details on packaging various products.
Overview
Product categories are main product types that have different packaging and prep requirements for products to be safely shipped and stored at Flexport fulfillment centers. Properly packaging and preparing units reduces delays in receiving time, and protects inventory from damages while in transit and at the fulfillment centers.
Product categories are used to help Flexport identify your product to ensure everything can be safely processed at the fulfillment centers. Flexport also uses product categories to provide you detailed prep and packaging instructions.
We now have Flexport Prep Services to help with some of the below! If interested you may view our our prep services here.
Want to learn more about Flexport Prep? Read more in our blog or request a consultation today.
Summary of Product Categories
The table below provides a summary of the various product categories.
| | | |
| --- | --- | --- |
| Column | Description | Examples |
| Adult Product | Product displays potentially offensive material, such as profanity or nudity. | Products with photos of nude models, obscene or profane messaging |
| Apparel, Fabric, Plush, and Textiles | Product is made of cloth or fabric, which can be damaged by dirt, dust, moisture, or liquid. | Shirts, bags, belts, plush toys |
| Baby Products | Product is for a child 3 years or younger. Packaging has cutouts greater than 1 square inch. | Teething rings, bibs |
| Fragile / Glass | Glass or fragile, or a liquid in a glass container | Glass, china, picture frames, clocks, bottle of olive oil |
| Liquids (Non glass) | Liquids or gels of more than 16 oz in plastic bottles or jars. | Liquid soap, sprays, lotions |
| Perforated Packaging | Product has packaging with a perforated opening. | Chocolate boxes, candy displays |
| Powder, Pellets, and Granular | Product is made of powders, pellets, or a granular material. | Facial powder, sugar, powdered detergents |
| Sharp | Product is sharp and easily exposed. | Scissors, tools |
| Small | The longest side of the product is less than 2 inches (width of a credit card). | Jewellery, keychains, flash drives |
| Other (No prep needed) | Product does not fall into the above categories and no prep is needed. | |
Packaging Requirements
Assigning Product Categories
When creating an inbound, you will be asked to identify the category of your product. If you have previously selected a category, then it will be pre-populated.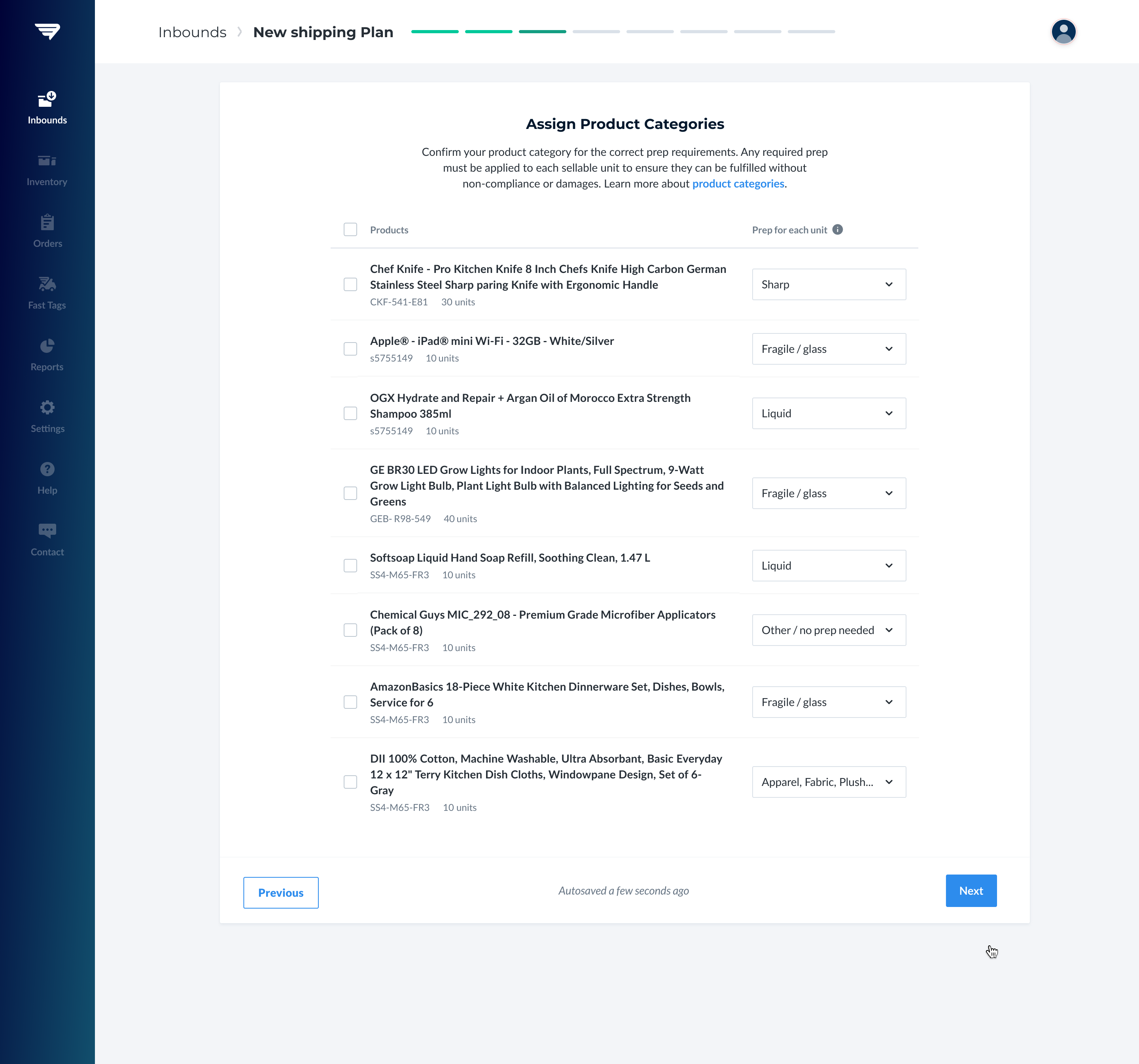 If you have multiple products of the same category, you can select all the products using the checkbox on the left most column to assign a category to all selected products at once.