All products are required to be barcoded. This enables Flexport to identify a product as unique to you. All Flexport barcodes must be printed in black ink on white, non-reflective labels. If your products do not already have barcodes on them, you can print barcodes while creating your inbound shipping plan.
Products that arrive without barcodes are at risk of being disposed. The Flexport team will attempt to resolve. However, if unresponsive or unable to identify, the products can be disposed or at risk of labeling issues.
Types of Barcode Labels
1. Flexport SKU (DSKU)
An alphanumeric string that always begins with a D.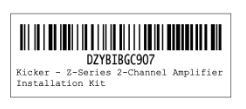 2. Manufacturer SKU
Currently, accepted barcode formats are Code 128 for the ones listed before; if you are custom printing in another format, you might run into non-compliance.
UPC (GTIN-12, -13, -14)

EAN (GTIN-13)

GTIN-14

| | | |
| --- | --- | --- |
| UPC Barcode | EAN Barcode | |
3. Amazon SKU (FNSKU or ASIN)
An alphanumeric string that always begins with a B or an X.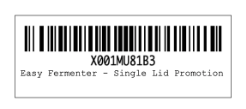 NOTE: Amazon's Transparency labels are not accepted. Please relabel or cover the QR code or it can result in delays and/or non-compliance.
Once you choose a barcode for each product, it cannot be changed. So it's imperative it is correct. It's a good idea to check it with your warehouse before completing this step.
Products shipped with incorrect labels are noncompliant and will be assessed noncompliance and relabeling fees.
How to Apply Barcode Labels
Barcodes must be easily scannable and securely adhered to every sellable unit. Poorly attached barcodes or barcodes folded over edges will require relabeling and incur associated fees.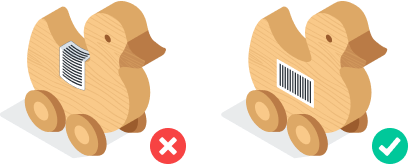 The minimum size of a barcode is 0.3" wide (keep in mind this is the physical barcode size, not the label). If you are adjusting the size of the barcode by zooming in or out to fit a physical label size, the barcode itself can be reduced by up to 80% and can be increased by up to 200%.
Also ensure that your products will pass the FBA Drop Test, and are secured and labelled correctly if bagged.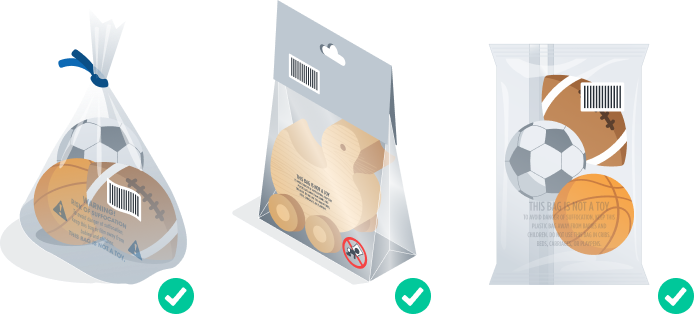 Covering Up ALL Other Visible Barcodes
Other than the barcodes you have selected for the product within Flexport, all other visible barcodes MUST be removed or completed covered. This is extremely important to prevent mis-scans and mis-picks during fulfillment.

In other words, your product can only have multiple scannable / visible barcodes if all these barcodes are in Flexport's system.