This article explains how to use Freight as a shipping method when inbounding your inventory. Freight offers discounted FTL rates, and is recommended for all shipments greater than 250lbs. For shipments that are less than 250lbs, Small Parcel Delivery (SPD) rates are recommended as they will be cheaper for you. If you are close to the 250lb range, you should get quotes for both rates to find the best deal, as rates may change depending on carrier availability and dates.
Overview
Once you have completed all the initial shipping plan information, and have arrived at the Edit Shipments Page, you should see a dropdown "How will you inbound your shipment?". Here, you can select Freight (LTL/FTL) to get a quote with Flexport's discounted rates. After selecting this option, you will be presented with 6 steps to complete.
How to Use Freight
Step 1: Boxes and Labels
First, you must enter your box configurations, which includes the number of SKUs and units in each box, and the number of boxes. This is the same step as all the other shipping methods, and is required for the box contents labels.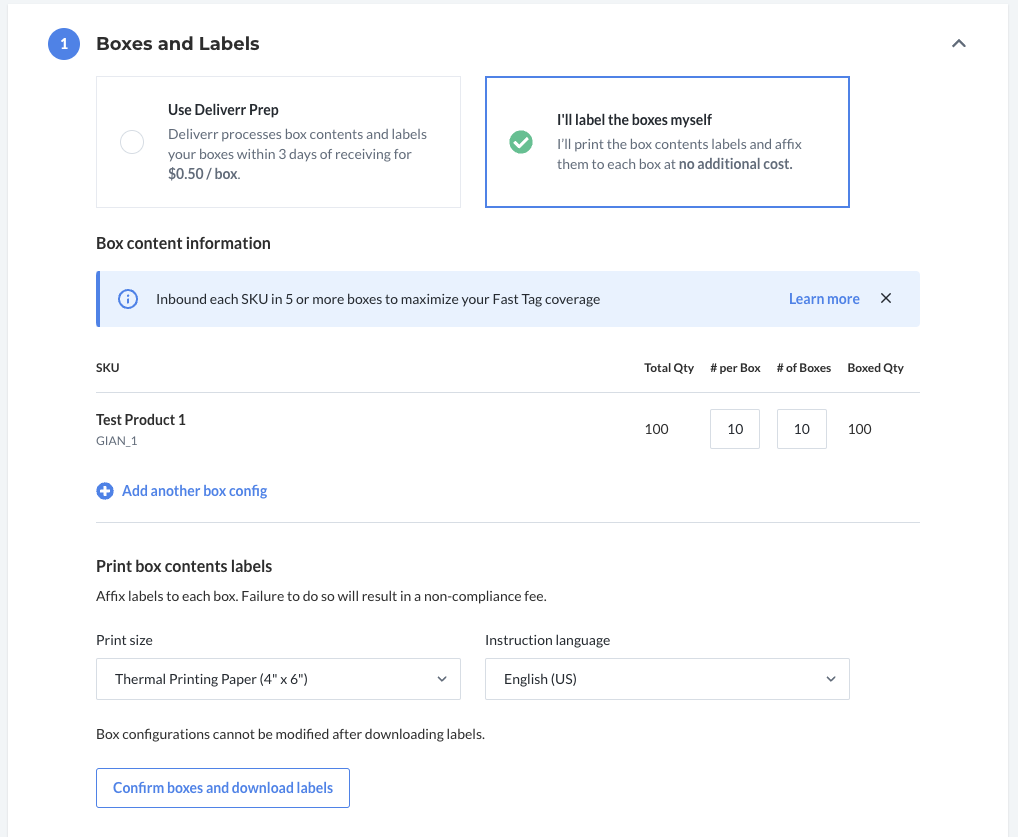 Alternatively - if you are using Forwarding - you can select "Use Prep" and Flexport will record the contents of your boxes on your behalf at the crossdock. Learn more about Prep here.
Step 2: Packing List and Packaging Instructions
Then, you can download the packing list, which will include all the packaging instructions for your inbound.

Step 3: Add shipment details
Please review and verify the freight instructions to ensure the safety of Flexport's staff, and to prevent damages to your inventory.
Next, provide your pallet information, which includes the pallet height, weight, and the number of pallets. The total weight must be at least 150lbs, and you must have 26 or fewer pallets for FTL. This information will be used to provide you an accurate quote with Flexport's partners. If you enter 6 or fewer pallets, you will eventually see an LTL (less than truck load) quote. Learn more about LTL here.
Note: If your pallet information is inaccurate, your final charge may change after the carriers have verified the weights and dimensions of the shipment.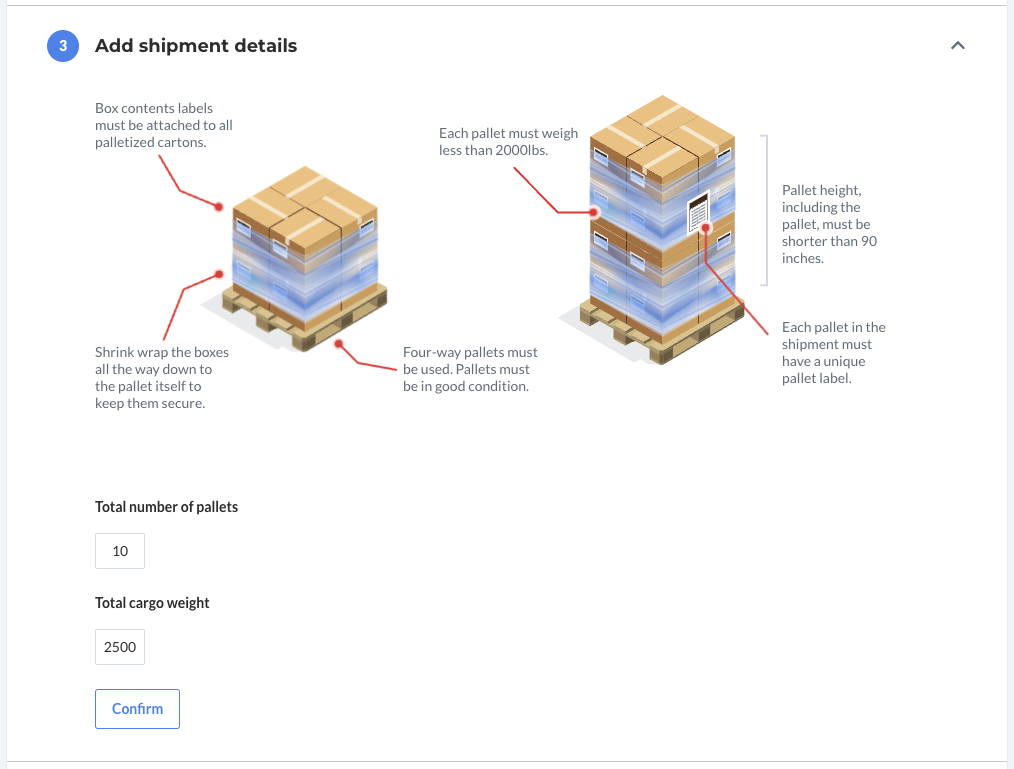 Step 4: Add additional pickup details
After the pallet information has been completed, you need to provide information for the freight pickup. This includes:
Cargo ready date and location hours of operation: The date for which the pickup should happen, which must be within 10 business days. This date is not guaranteed depending on carrier capacity. If your date needs to change, you will be notified by the team.
Shipper reference number: This is optional, but may be used to reference the freight shipment with an identifying number that you can personally recognize. If not provided, this will default to the PO number.
Afterwards, provide the contact information for the pickup appointment.
Finally, you can select whether or not you would like a lift gate for your shipment, which is needed if the pickup location does not have a loading dock.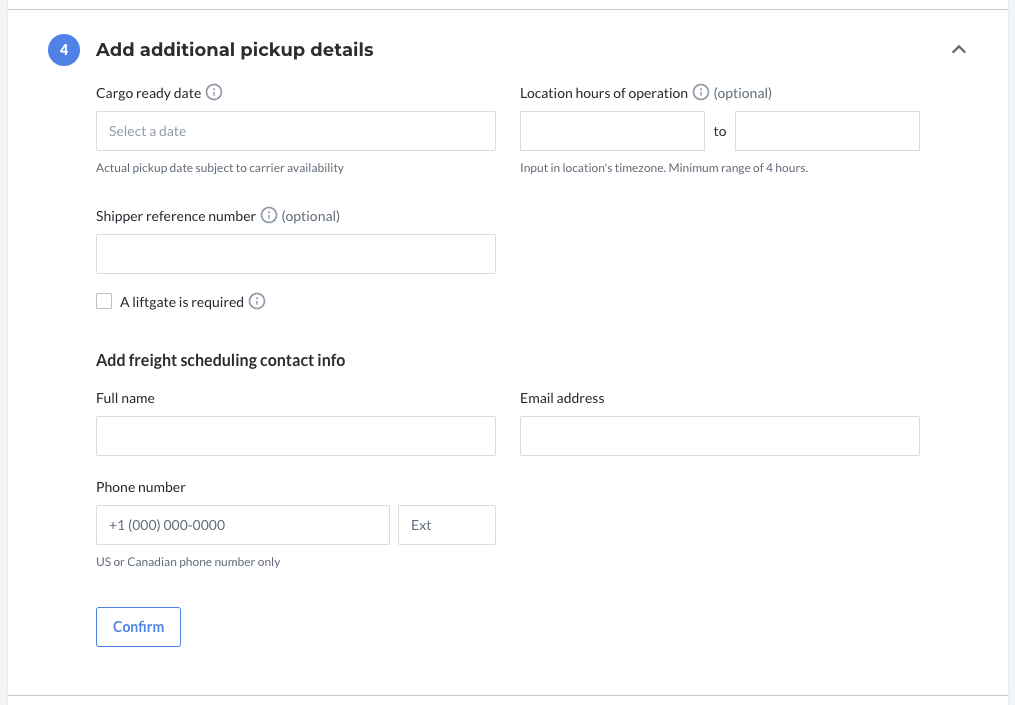 Step 5: Shipping Quote
Now you can select the rate you would like! You will be presented up to two options, Standard (cheapest) and Priority (fastest) that you can select. Flexport automatically searches through all our partners for the best rate for you. In some cases you will only get one rate, which means that the cheapest rate is also the fastest.

Step 6: Review Shipping Plan
Next, you can review the quote and details of your shipping plan. If everything looks good, click Accept and charge to finalize the shipment.
Completed Shipments Page
Once you've completed the shipment, you'll be sent to the standard Completed Shipments page, with a summary of your freight details at the top. Here you will also be provided the bill of lading (BOL) which is a mandatory document that must be printed and provided to the driver upon pickup, and the pallet labels, which must be affixed to each pallet to help Flexport ensure a smooth receiving process.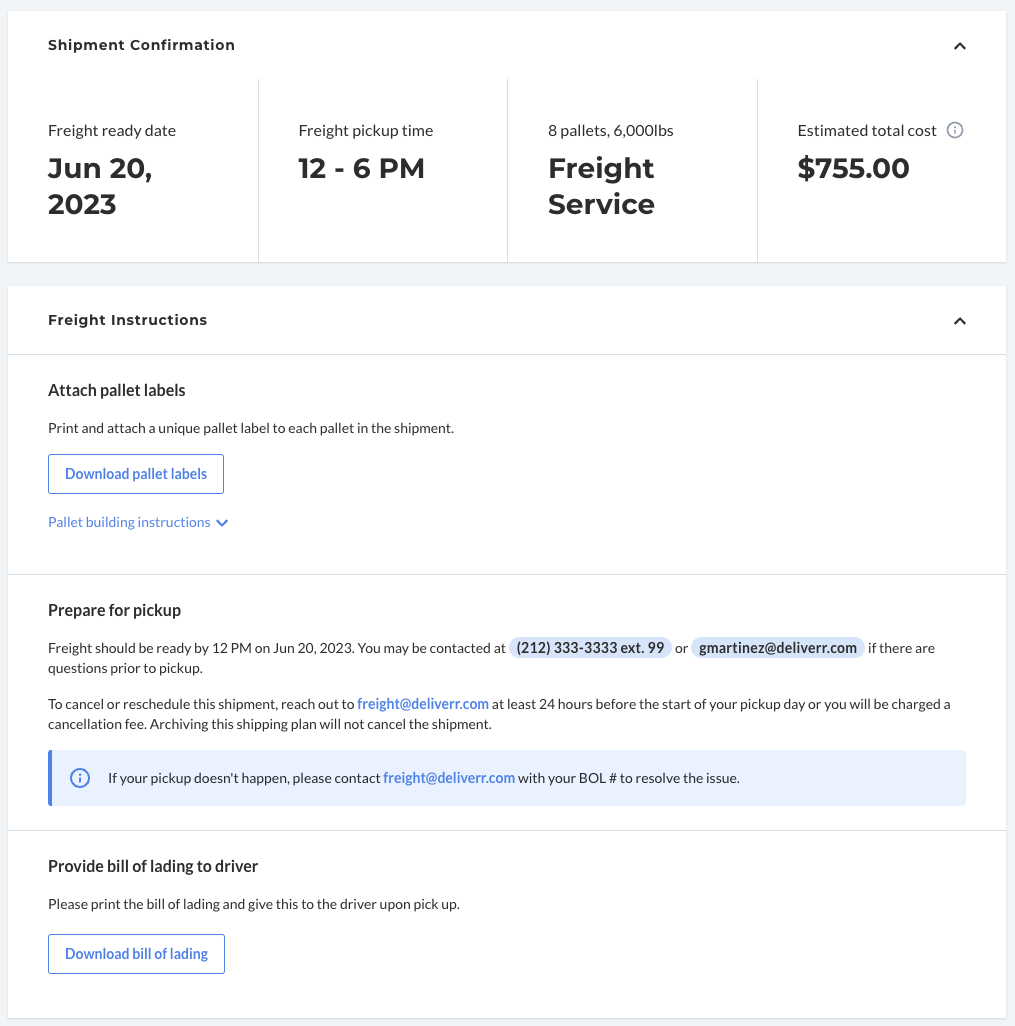 Now that everything is ready to go, a driver should arrive on your scheduled pick up date, and your inventory will be on it's way to Flexport's fulfillment center to get received!
Frequently asked questions
1. How do I cancel a freight order?
Contact Support. You must cancel freight orders at least 24 hours before the scheduled PU date. If you cancel after that window, you will be charged the following cancellation fees:
$100 for Less than Truckload (LTL)
$300 for Full Truckload (FTL)
2. How will the Transportation charge look on my Invoice and when will I be invoiced?
You will be invoiced when the shipment is picked up by the LTL / FTL carrier. The charge will appear as a line item on the invoice and reference the type of charge, PO#, carrier, carrier tracking ID, and final charge.

3. Can the quoted charge from the original Transportation request differ from the invoice charge?
Yes. If your freight information is not accurate, then you will be charged an overage, which will appear on an invoice, but with 'Overage Charge' as the sentence.